Written by Katie Eastment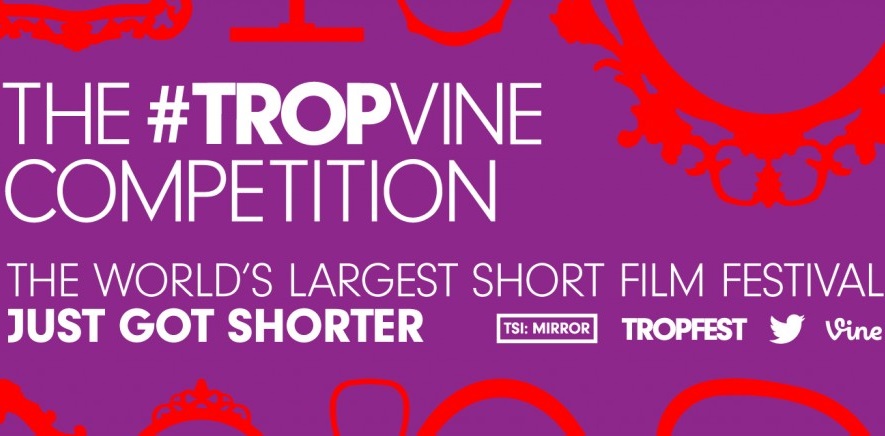 Fancy yourself a bit of a short filmmaker? What about an extremely short filmmaker? Tropfest Australia reveals the launch of its inaugural #TROPVINE Competition, which is open to entrants all over the globe. The competition will be the first official Vine competition in Australia.
Anyone, from anywhere around the world is invited to create a six-second Vine film featuring this year's TSI (Tropfest Signature Item) – 'MIRROR'. After posting their Vine film on Twitter using the competition hashtags #tropvine #mirror and @TROPFEST, entrants need to get sharing their Vine with the world!
The 20 most popular Vines will form a shortlist, which will then be judged by a Tropfest jury. The winning Vine-maker will win be the recipient of a VIP trip to Tropfest Australia 2014, including Qantas flights to Sydney*, luxury accommodation at QT Sydney, Nikon camera gear, exclusive VIP tickets to Tropfest Australia 2014 and lunch with the crew from Twitter Australia!
Michael Laverty, Tropfest Managing Director explains "The Vine platform provides a challenging and exciting platform for filmmakers. It's definitely a space that holds enormous potential for storytellers and we're really excited to see what stories will come out of our inaugural #TROPVINE Competition. Who knows, we might even see a preview to the winning Tropfest Australia 2014 film!"
In a partnership with Twitter, Tropfest, the world's largest short film festival, aim to generate a buzz of creativity around the globe with this new competition, challenging filmmakers worldwide to experiment with the TSI and come up with imaginative ways to tell a compelling story in under six seconds.
"The #tropvine concept sets a new challenge to the Australia's leading film makers to create the best six second film using Vine and Twitter. Vine is the best way to see and share life in motion, so partnering with the world's largest short film festival is a perfect opportunity" says Chris Ledlin, Media Partnerships, Twitter Australia.
Not only is this Tropfest's inaugural Vine competition, but it is also the first official Vine competition in Australia. The competition will run over eight weeks with entries open from 7pm, July 27 until midnight on September 21, 2014. The shortlist will be unveiled on September 22 and the winner will be announced on September 27.
Entrants of the #tropvine competition may also feel encouraged to expand their Vine story and create a short film to be entered into this year's Tropfest Australia competition, which is open for entries from August 13, 2014.
Tropfest entries must be no longer than seven minutes, must include this year's TSI and be entered before October 2, 2014.
It is completely up to entrants as to how they interpret and include the TSI in their film and filmmakers are encouraged to be as creative or as literal as they like.
This year's festival is expected to be Tropfest's biggest yet with scores of filmmakers competing for the chance to be one of the 16 finalists whose short films will premiere live to a national audience of around 150,000, as well as broadcast free-to-air on SBS 2 to an even bigger home audience.
A panel of industry and celebrity judges will select a winner live on the Festival Night, with the First Prize-winning filmmaker to take home an incredible prize pack including: a brand new Toyota, $10,000 cash, a trip to Los Angeles for a week of meetings with film executives thanks to Motion Picture Asociation and the Australian Screen Association plus a Nikon D800 + $2,000 RRP worth of lenses and accessories.
Tropfest had humble beginnings at the Tropicana Café in Sydney's Darlinghurst where an eager crowd of 200 showed up to watch a short film screening that John Polson had organized. Twenty two years on, Tropfest attracts a live audience of around 150,000 in Australia and the Festival has grown internationally with standalone competitions in New Zealand, South East Asia, New York and the Middle East.
THE DETAILS
The first official #tropvine competition will be open for entries from 7pm, July 27, 2014 – midnight, September 21, 2014.
Entrants need to create a six-second Vine video incorporating the Tropfest TSI – 'MIRROR' – and post it to Twitter using the competition hasthags #tropvine #mirror and @TROPFEST.
After the entry has been moderated, it will appear on the Tropfest website and then be open to a public vote.
Up to 20 of the most popular Vines will be judged by an internal Tropfest jury.
Anyone, from anywhere, is invited to enter. Full terms and conditions of entry apply, and can be found at www.tropfest.com/au/tropvine
Visit www.tropfest.com/au for festival details, screening venues and regular updates on all things Trop!
About Tropfest
Tropfest is Australia's most prestigious short film festival and one of its most iconic cultural events. It is also the largest short film festival in the world. Founded in 1993 by film director John Polson as a small screening for family and friends at Sydney's Tropicana Café, the Festival now attracts a national event audience of around 150,000 people. The event is hosted in Sydney with a live national broadcast on SBS 2. The short film competition is unique in that every film must be made specifically for Tropfest, will premiere at Tropfest Australia and include the Tropfest Signature Item (TSI), which changes each year. 16 Finalists are selected from an average 650 entries. Tropfest has expanded internationally to include new competitions and festivals in North America, (New York), the Middle East, New Zealand and South East Asia.
Tropfest Live Television Broadcast
After successfully broadcasting the event on SBS ONE in February 2013 and SBS 2 in December 2013, Tropfest will be shown live on SBS 2 for the next four years. SBS will exclusively broadcast the festival night as well as 13 weeks of additional Tropfest content in the lead up to the live event.
Entering Tropfest Australia 2014
The Tropfest Signature Item (TSI) is: "MIRROR".
All filmmakers must adhere to the following guidelines:
Your film must be made specifically for Tropfest Australia 2014
Your film's first public screening must be Tropfest Australia 2014
Your film must be no longer than 7 minutes (including titles and credits)
Your film must contain the 2014 Tropfest Australia Signature Item (TSI) 'MIRROR'
Your film must be in 16:9 ratio
Your film must be submitted to Tropfest Australia via our online entry system.
Entering Trop Jr 2014
To be eligible, the filmmaker, and each participant in a group entry (except actors) must be 15 years or younger
Entries close

October 2, 2014

at

6pm

(Australian Eastern Daylight Time). Entry to Trop Jr is free, kids can enter individually or as a group and multiple entries are permitted.
Films can be any style or genre.
In true Trop tradition, each film must also include a Trop Jr Signature Item (TSI), which for 2014 is "FLY".
The TSI can be interpreted in any way the filmmaker chooses, as long as it is referenced somewhere in the film.
Trop Jr will take place during the afternoon before the main Tropfest festival at Sydney's Centennial Park on

Sunday December 7 2014

, from

11am- 2pm

.
The films will also be screened at a number of other capital cities.
Parents, teachers and carers should carefully read all of the 2014 Trop Jr Entry Guidelines, Frequently Asked Questions and Terms & Conditions that are set out on the Trop Jr website.
Check www.tropjr.com for further event details and subscribe to Trop Jr News for regular updates.
Tropfest Managing Director – Michael Laverty
Michael Laverty is a highly experienced business leader and entrepreneur with over 26 years' experience in the fields of accounting, financial management, marketing and major event production. He was born in South Africa and immigrated to Australia in 1999 with his wife Kathy and two daughters, Jessica and Jaimie. He is the managing director of Tropfest in Australia, the world's largest short film festival where he has worked for over 10 years. He is a passionate supporter of short film and the industry. Michael is an excellent communicator, team builder and motivator. He speaks regularly at youth leadership forums. He has a particular passion for the development of young people, particularly in the field of next generational leadership. Michael played a major role in the development and management of Edutrain, a high-level leadership development program focused on the Youth of South Africa. He was also actively involved in the social justice movement in South Africa. He is a tremendous story teller and motivator for young leaders. He and his wife run a youth mentoring program, run relational training workshops and have a deep passion for social justice issues.
Contributor
Katie Eastment | Communications Advisor
Suite 2, 4 James Street
Waterloo NSW 2017
www.cardinalspin.com.au