Written by Klara Czerwinska
Aktualna sytuacja epidemiologiczna w naszym kraju nie wydaje się poprawiać. Choć wiele biznesów zostało otwartych po kwietniowych ograniczeniach, niektóre branże wręcz rozkwitły w ostatnich miesiącach.
Jedną z takich branż jest hazard online. Choć w naszym kraju dość mocno ograniczony przepisami, na świecie rozwija się z miesiąca na miesiąc. Czy przyczyną jest rosnąca konkurencja, bonusy kasynowe, czy może po prostu… nuda? Na to pytanie starają się odpowiedzieć analitycy branży.




Ogromny wzrost dzięki wirusowi
Przemysł hazardu online otrzymał dodatkowy "prezent" w postaci odwołania wielu wydarzeń sportowych. Z jednej strony zwiększyło to zainteresowanie kasynami osób, które do tej pory obstawiały zakłady bukmacherskie. Z drugiej zaś, zmniejszyło liczbę konkurentów na rynku. Chodzi tu o kasyna stacjonarne, które z wiadomych przyczyn zostały zamknięte. Gracze spragnieni hazardu trafili do sieci, gdzie przejęły ich firmy internetowe.
Zdaniem analityków, ten rok powinien się zakończyć dla branży kasyn online wzrostem nawet o 13 proc w porównaniu z zeszłym rokiem. Jedną z przyczyn jest fakt, że zamknięci w domach gracze zdecydowali się na poszukiwanie nowych form rozrywki, w tym również hazardu online. Część z nich chciała także wygrać pieniądze, nawet mimo ostrzeżeń specjalistów, którzy radzą by hazard był rozrywką, a nie sposobem na zarobek..
Z dnia na dzień wzrosła liczba odwiedzin na stronach związanych z kasynami online. Wiele z nich zdecydowało się wykorzystać szansę oferując graczom ciekawe bonusy w zamian za złożenie depozytu.
Państwa wspierają kasyna
Rozwojowi rynku hazardu online sprzyja także liberalizacja przepisów w wielu krajach świata. Państwa takie jak Stany Zjednoczone czy Wielka Brytania zdecydowały się na poluzowanie wymagań dla kasyn online, co sprawiło, że łatwiej było nowym graczom wejść na rynek.
Jako że zdaniem specjalistów kolejna pandemia czeka nas prędzej czy później, warto obserwować rynek kasyn online. Jak na razie nie widać innej metody ograniczania rozprzestrzeniania się chorób niż mniej lub bardziej dobrowolna izolacja. Dlatego branże, które nie wymagają wychodzenia z domu, będą stawać się coraz bardziej popularne.
Dla osób bardziej zainteresowanych giełdą, firmy kasynowe online i ich operatorzy są ciekawą propozycją inwestycyjną. Choć jest to raczej opcja dla osób inwestujących za granicą - Totalizator Sportowy, czyli operator jedynego polskiego kasyna, nie jest notowany na warszawskim parkiecie.
Klara Czerwińska, ekspert do spraw hazardu online podkreśla jednak, by nie dać się ponieść emocjom. W pierwszej kolejności należy zadbać o bezpieczeństwo gry. Szczególną uwagę powinni zachować gracze, którzy do tej pory nie zdecydowali się na skorzystanie z kasyna online. Warto sprawdzić recenzje przygotowywane przez ekspertów, by nie stracić pieniędzy.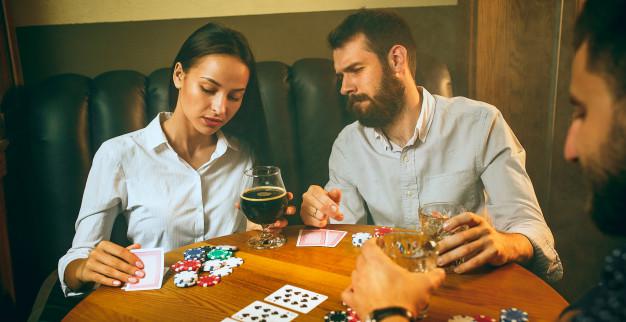 Jak długo potrwa dobra passa?
Analitycy branży podkreślają, że dobra passa musi się wreszcie skończyć. A im więcej kasyn, tym mniejsza liczba graczy i tym samym mniejsze obroty. W dłuższej perspektywie może to oznaczać niższe bonusy lub nawet problemy finansowe. W tej chwili trudno określić, które kasyno może zatonąć jako pierwsze, jednak raczej będzie to dotyczyć nowych graczy.
Polskie przepisy sprawiają, że jeśli chcesz grać legalnie, możesz skorzystać aż z… jednej oferty. Wszystkiemu winna jest ustawa hazardowa, która przekazała praktyczny monopol na prowadzenie kasyn online Totalizatorowi Sportowemu. Wielu graczy z tego powodu decyduje się na granie w szarej strefie, która zgodnie z prawem jest dostępna wyłącznie dla osób mieszkających za granicą.
Co więcej, jeśli w twoim domu są dzieci, które przeszły na tryb nauki zdalnej, warto sprawdzić, jakie strony odwiedzają. Oprócz tego, że zdalna nauka niekoniecznie musi im służyć, to więcej wolnego czasu może sprawić, że spróbują zajrzeć na strony z hazardem. I to nawet pomimo faktu, że większość kasyn zdecydowanie zabrania niepełnoletnim graczom wstępu na swoje strony.


Podsumowanie
Branża hazardowa znacznie zyskała na pandemii. W tym momencie zanotowała ona nie tylko większą liczbę klientów, ale również rosnące zyski. Analitycy jednak radzą, by ostudzić emocje. Hossa nie trwa wiecznie, a nawet jeśli pandemia wróci, liczba graczy w końcu musi przestać rosnąć.